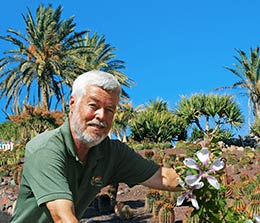 Director of Jardín Botánico Oasis Park · Researcher
Specialty: Flora and vegetación canaria.
Geographic Region: Europe, Mediterranean Region and Macaronesia, Iberian Peninsula.Research: vascular Flora and lichens.
Professional profile
He graduated in biological sciences from the University of La Laguna in 1981, ending with a degree thesis on the flora and vegetation from Malpais de Güímar, in Tenerife, and his doctorate degree from the same University in 2012 with a work on the flora and vegetation of the peninsula of Jandia, Fuerteventura.
Since 1986 he lives and works in Fuerteventura, having specialized in the flora of this island and in environmental management. He was part of most of teams drafting of the Master Plans of Use and Management of the Protected Natural Areas of the Island, as well as the studies prior to the Declaration of the island as a biosphere reserve by the UNESCO. He also collaborated in the Insular Plan of territorial and urban development plans. One of his greatest professional motivations is the recovery of threatened species; in this sense, as an expert on the problems of conservation of endemic plants of Fuerteventura he had the opportunity to participate in the drafting of recovery plans of various endangered species of the flora of the island.
Ongoing projects
The feasibility study of ecological plant Canary seed production.
Study of the biology of native species.
Study of populations of endangered species of the Fuerteventura flora.
Environmental education.
Development of the reserve of native plants and migratory birds.